Still censored by Twitter
Surveillance Valley wins. Immigrants as a Weapon never stood a chance.
It's been a week since Twitter locked my account because of a tweet connected to my recent Immigrants as a Weapon letter — the one about Trump's impeachment and the "Ukraine Doctrine." I still have no idea how Twitter made this decision and how it happened — and that's even after a Twitter PR rep responded to my email and offered to explain what happened. Actually, the company's response is the most annoying thing about this.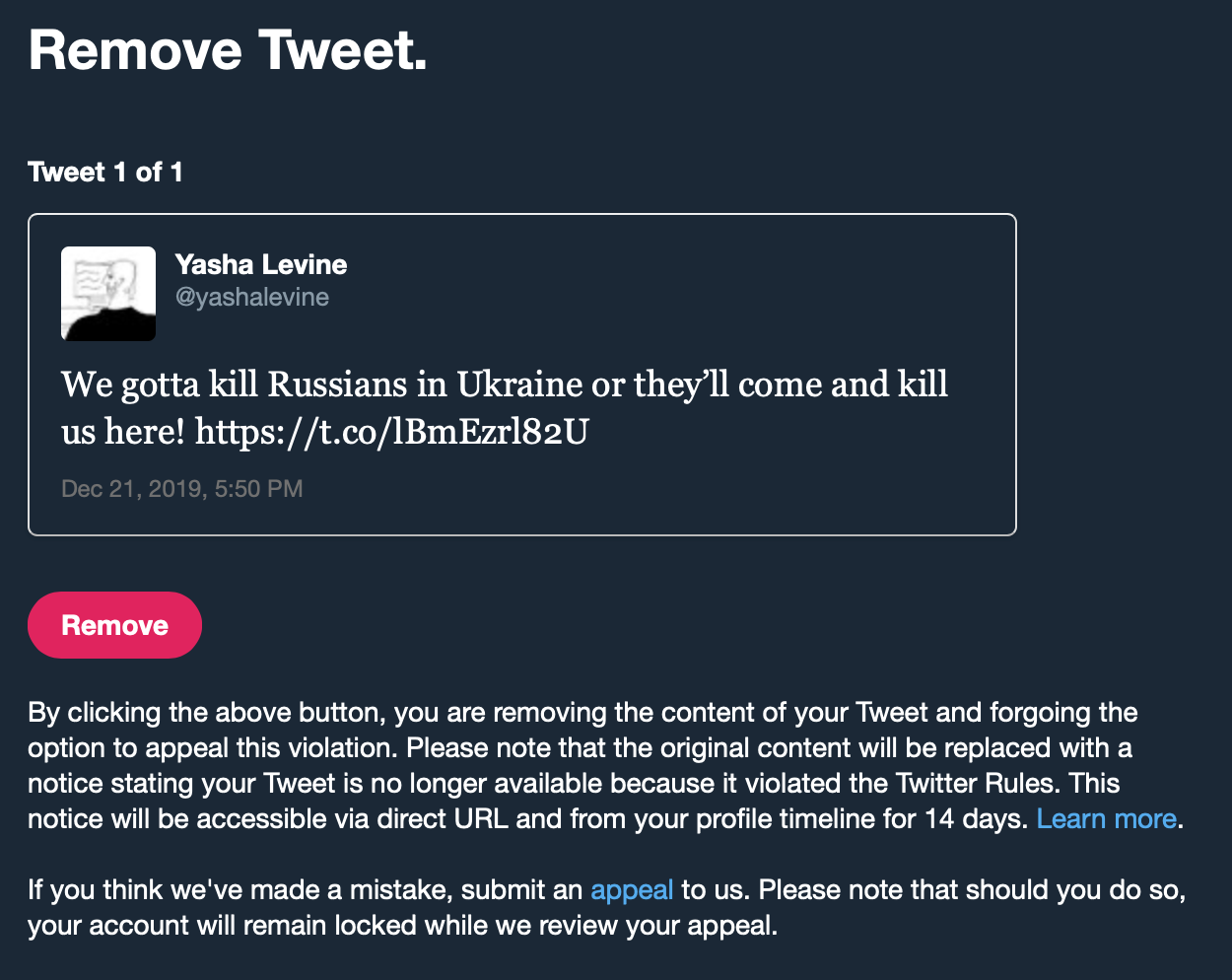 I sent Twitter an email on December 24 asking the company to explain how it went about censoring political speech on its platform. A rep got back to me a few days later. But before she agreed to give me the down-low on what happened, she requested that I consent to not quote her directly and keep what she tells me "on background" and "for paraphrase use only." In the world of journalism and corporate media relations, this is supposed to be a sign that your contact is going to open up and discuss things a bit more frankly. They'll tell you what happened, but don't want it to be directly attributed to them.
I agreed, thinking this is the only way I have of extracting any info from this notoriously opaque communication company.
What did the rep say? Nothing. Actually, worse than nothing. She ignored all my questions and simply rehashed the exact same generic message I had received from Twitter's censorship system nearly a week earlier:
On background / according to Twitter: Your account is locked for violating the Twitter Rules. Per the communication sent to you from Twitter Support, you are required to delete a Tweet to regain access to your account. 
It was a big fuck you. And that's it. Now Twitter ignores my emails.
And why not? Twitter is private property. I might be a famous journalist with a bit of mainstream respectability and a some heavy-weight supporters on my side, but I still have no rights on Twitter — no more than what the company deems to give me. So nothing I can do. I've used Twitter as a journalist for years in my work but it can be closed, deleted, and disappeared at the push of a button without any recourse.
America isn't the Soviet Union, but obviously that doesn't meant there isn't censorship. Here we have outsourced our political media censorship to unaccountable and concentrated private power: corporations that are totally integrated into the larger financial, political, and national security establishment. And this is how this power works: opaquely and without giving a shit.
I'm definitely not the first and sure won't be the last to feel it. It's happening all the time to all sorts of people. What's amazing is that there is constant clamor for more corporate control of speech, not less.
—Yasha Levine
PS: Of course, it can work the other way. Twitter can work with our foreign policy apparatus to keep the lines open, rather than closed and censored.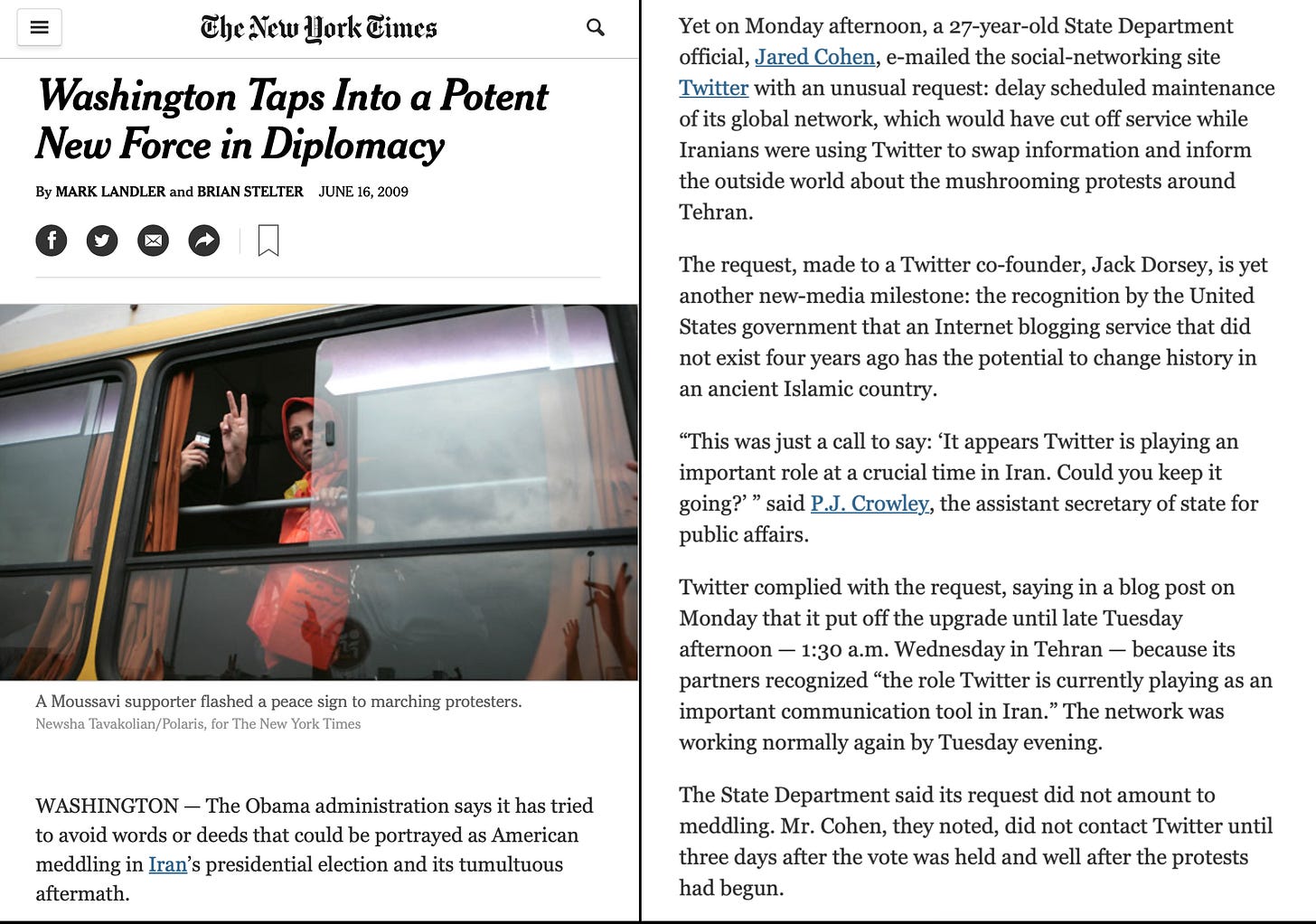 ---
Catch up on Immigrants as a Weapon's Twitter censorship saga:
---
Immigrants as a Weapon is a new investigative newsletter that looks at the weaponization of nationalism and immigrant communities. Check out this introductory post and sign up to get subscriber-only stuff in your inbox!