Discover more from weaponized immigrant
A newsletter with a podcast attached.
Over 8,000 subscribers
Fascist Bumfight in Israel
This is what happens when you run a state based on religious fundamentalism and ethnonationalism.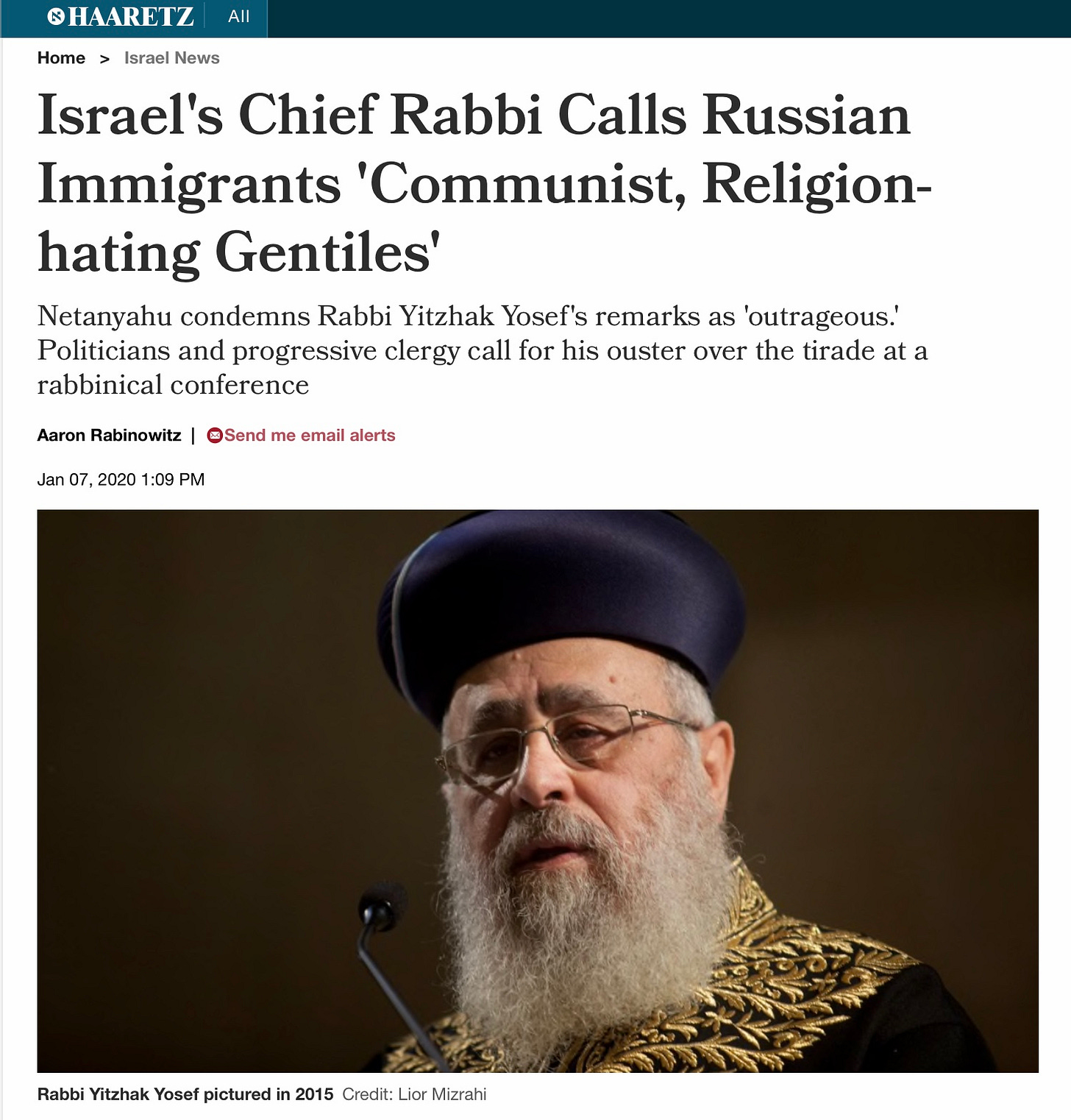 A racist screed by one of Israel's infamous Taliban-type, tabernacle-thumping chief rabbis has gone viral. In it Yitzhak Yosef accuses Israel's Soviet Jewish immigrants of not being real Jews but godless gentiles and communists — a fifth column that was brought into the country in a conspiracy to degrade the true faith and undermine the political power of ultra-religious Jews in the Holy Land.
"Tens or hundreds of thousands of gentiles came to the country because of the law determining who's Jewish," said Rabbi Yosef. "There are many, many gentiles here, some are communists, hostile to religion, haters of religion. They're not even Jewish, they're gentiles."

…Yosef also accused the state of deliberately inviting immigrants from the former Soviet Union to the country in an effort to weaken the political power of the ultra-Orthodox public. "They brought them here as leverage against the ultra-Orthodox," the chief rabbi said. "They brought these complete gentiles to weaken the ultra-Orthodox vote during elections. Unfortunately, we see the fruits of their incitement."
The rabbi's speech caused a bit of a political scandal in Israel. Around the world, too, a lot of Jews have been shocked and scandalized by his racist remarks. I mean, it's true, the guy does sound like a classic antisemite serving up the ol' Judeo-Bolshevik conspiracy theory — but one that's been remixed for a retrograde and theocratic ultra-Orthodox crowd worried about preserving their racial Jewish purity and religious culture against a degenerate invasion of fake Jew commies.
It's gross. But there's a complicating wrinkle to this racist rabbi story — one that makes it hard for me to sympathize with my fellow Soviet immigrants. Truth is, it's all part of a larger Jewish fascist vs Jewish fascist squabble.
See, the rabbi's political incorrectness is connected to a fight that's being waged against the ultra-Orthodox by Avigdor Lieberman and his "Our Israel" — a political party that's very popular with Soviet and Russian immigrants.
Our Israel isn't some leftwing or even progressive force that stands for religious and ethnic tolerance. It's a racist, ethnonatioanlist party that represents the extreme right of Israel politics. And in Israel, being on the right of a political spectrum that's already skewed waaaaay right means you're pretty much, well, proudly fascist.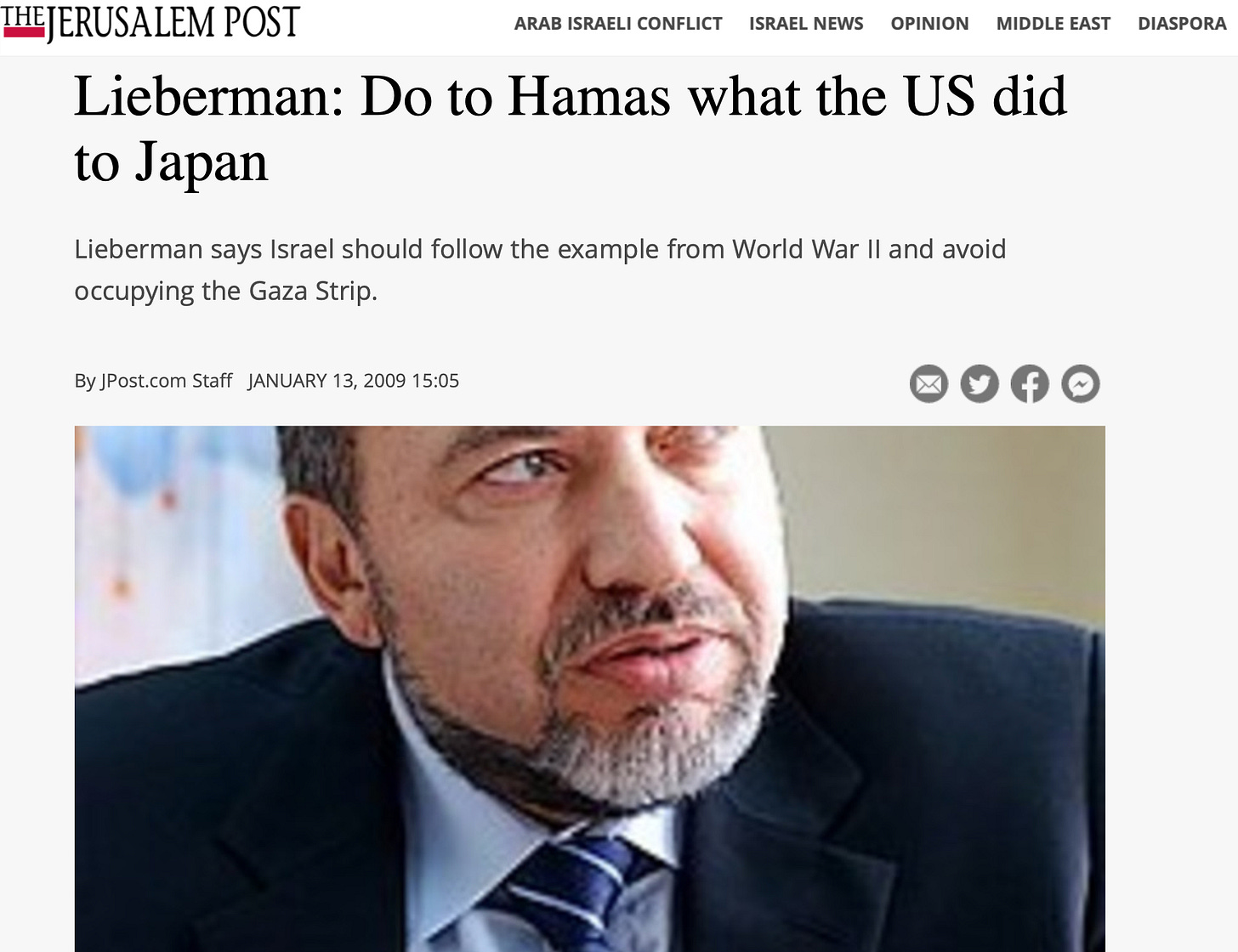 Lieberman, born in Moldova, calls for dropping a nuke on Gaza. "No Palestinians no problem."
---
Aside from its bloodlust for Palestinians and Starship Troopers levels of military worship, Our Israel also has a thing for the ultra-Orthodox.
Hardcore religious Jews have a huge amount of power over secular life in Israel and get all sorts of perks from the state — including being exempted from having to serve in the military. So Lieberman's made going after the beards a central plank of his politics. Not surprisingly, that's been a very popular position among Soviet and post-Soviet Jews.
They came to Israel with nothing, got almost no help from the state, and had to scramble up on their own. Many of them still struggle financially. They see the ultra-Orthodox as degenerate and privileged moochers who never have to pull their own weight but force everyone else to live according to their ridiculous religious laws — including deciding who is and isn't a Jew and who can marry.
Lieberman's party has tapped into that hatred and channeled it into his own political rise. And that's why chief rabbi Yitzhak Yosef — that's the guy at the top with the funny black jelly bean hat — is so pissed and why he believes that Soviet Jews are an impostor virus infecting the Jewish nation.
But like I said, it's hard for me to feel any sympathy for the Soviet immigrants in this fight.
In one corner, you have racist secular immigrants of the Our Israel type. In the other, you have racist theocratic fundamentalists from the ultra-Orthodox parties. One of them wants to have a Jewish state only for "Jews" based on a mix of secularism and ethnonationlism. The other one also wants to have a Jewish state only for "Jews" but one that's based on ethnonationalism and an extremist interpretation of biblical law. They might disagree on the finer points of what defines someone as a "Jew" or what laws should underpin Israeli society. But they all agree on the basics: Juden Uber Alles. Apartheid. Death to Arabs. Death to Palestinians.
It would be great if Soviet immigrants had a popular anti-racist party or movement to countervail the ethnonationalist ideology that underpins Israeli society. But that would mean abandoning support for Israel as a Jewish-only state. And that's not gonna happen. Soviet immigrants — which flock to far-right parties like Our Israel — aren't exactly known for their tolerant views.
The racist rabbi's spat with Soviet immigrants is a good reminder that in Israel sectarian and religious hatred isn't just directed as Palestinians. It's a multidimensional cultural pastime with its own rules and hierarchies and plenty Jew-on-Jew loathing: Ashkenazi Jews against Sephardic Jews. Sephardic Jews against Ashkenazi Jews. Non-Soviet Jews against Soviet Jews. Ashkenazi Jews and Sephardic Jews and Soviet Jews against Ethiopian and Yemeni Jews. And All Jews against the Palestinians.
But this is what happens when you run a state based on religious fundamentalism and ethnonationalism. What other kind of politics can you possibly expect?
—Yasha Levine
---
Immigrants as a Weapon is a new investigative newsletter that looks at the weaponization of nationalism and immigrant communities. Check out this introductory post and sign up to get subscriber-only stuff in your inbox!
---