Some lighter news from a different front of the immigrant insurgency…
I was at the Key West Film Festival this weekend for the premier of my wife Evgenia Kovda's short film, Changemaker — an immigrant's perspective on America's documentary industry, inspired by her time in activist and "social change" doc circles in New York.
It's a great and funny film. And it was a subversive hit at her MFA thesis show at Hunter College earlier this summer: a mockumentary about documentary filmmakers snuck in and sandwiched between other straight documentaries — the kind that her film was satirizing. So the whole thing transcended cinema and entered the realm of performance art.
At the show, most of the audience was dying from laughter. But I could also see that many would catch themselves in the midst of their snorts and guffaws — not sure if the film was real or not and whether their proper response is to laugh at or be outraged at the main character's crass and unreflective exploitation of his subject. Not surprisingly, not everyone in her MFA program was a fan of the film. Some absolutely hated it — that included the director of her MFA program, who caused a scandal and almost started a fight with me and Evgenia at the thesis show. It was kinda wild.

Changemaker was a big hit with the audience in Key West festival. The film commissioner of Florida's Monroe County even came up to Evgenia at the end to congratulate her. He said that he loved it because "the film's so true!"
Check it out!
—Yasha Levine
PS: In the interests of full disclosure, I'd like to say that not only am I married to Evgenia, I also play a supporting role in Changemaker. The male lead, meanwhile, is played by Rowan Wernham — a friend and colleague with whom I'm making Pistachio Wars, a real and totally non-fictional documentary. So two people involved in making a real documentary are the main characters of a mockumentary about documentary filmmakers. The whole thing is very fucking meta.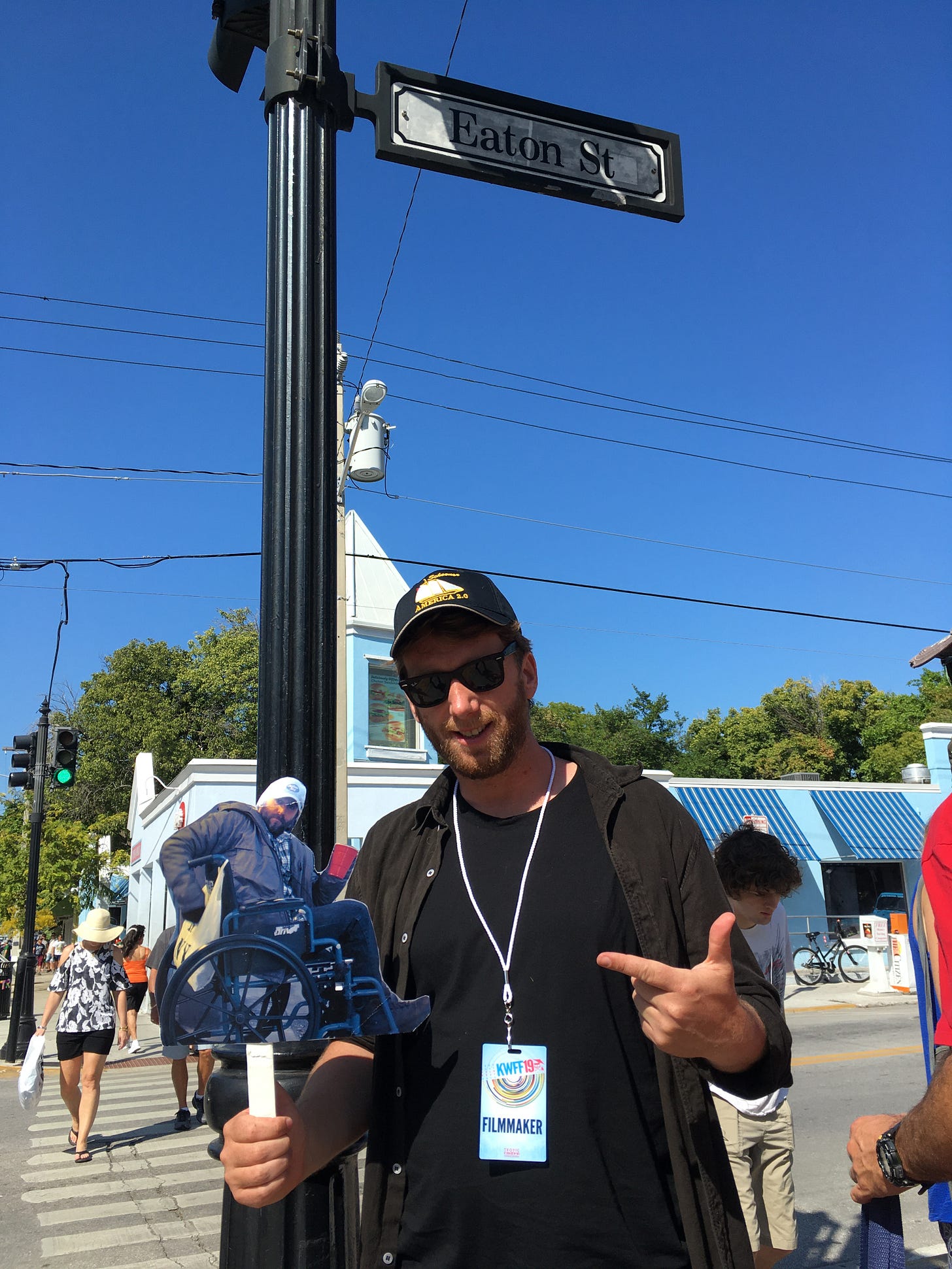 Jonathan Eaton on Eaton Street in Key West!