Discover more from weaponized immigrant
A newsletter with a podcast attached.
Over 8,000 subscribers
Canada finally gets a Nazi-loving Prime Minister
...temporarily, at least. In honor of this momentous occasion, I'm opening up all my subscriber-only material on Chrystia Freeland.
If you've been subscribing to this newsletter for the last few months, you probably remember that Chrystia Freeland — Canada's deputy prime minister and liberal political star — has a bunch of unrepentant Nazi collaborationist skeletons in her family closet.
As I wrote earlier:
Chrystia's maternal grandfather — Michael Chomiak — was a Nazi collabo and a fascist propagandist. His Nazi-controlled paper praised Hitler, ran giant ads for Ukrainian SS recruitment, spread antisemitic propaganda, pumped out vile garbage that helped justify the mass slaughter of Jews, Poles and Russians. Chrystia has known about her grandpa's Nazi past, yet she has spent most of her career whitewashing and praising his legacy, and talking about the positive influence he's had on her political outlook, especially towards Russia. And when her grandpa's Nazi past was finally revealed, she denied it and blamed the whole thing on Russian propaganda.
This isn't just a matter of history. She has long been active in nationalistic and fascist-adjacent Ukrainian movements. And as foreign minister, she helped align Canada's foreign policy with the aims and ambitions of these movements — the same ones that are rampaging in Ukraine today. In short: she's been helping bring her Nazi collabo grandfather's political vision of a pure Ukraine to fruition.
Now Chrystia — who has been leading Canada's COVID-19 response — is the de facto leader of the country. Judging by the itinerary, she helping lead Canada while Prime Minister Justin Trudeau is under quarantine. (Thanks to my friend Dan Boeckner for the tip!)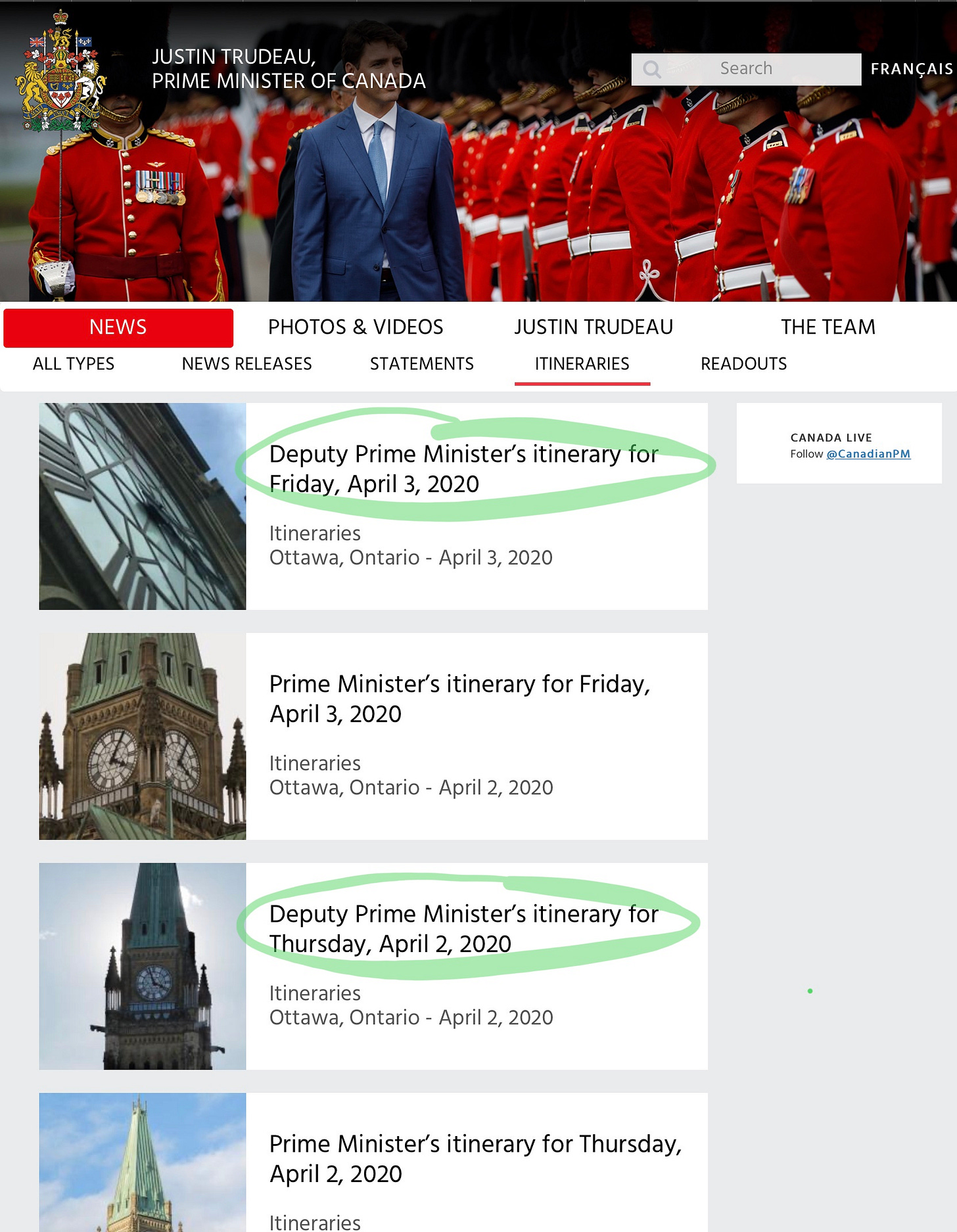 Canada finally got the liberal fascist PM it deserves!
---
In honor of this momentous occasion, I'm opening up all my subscriber-only posts on Chrystia Freeland:
Hope you're staying safe and enduring.
—Yasha Levine
---
Sign up for Immigrants as a Weapon. You won't regret it! And check out the archive.
---
And…while we're on the subject of Ukrainian Nazis, check out my previous Ukraine coverage: